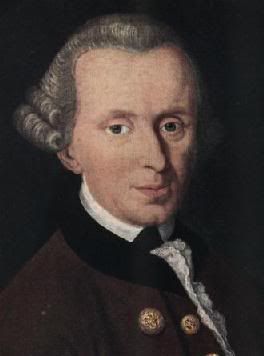 Kant
Garbage on CARM. 12/16/10
I laid out a nice little overview of some major reason for belief, in answer to another thread that was too long. Three categories, origins, ethics, and existentialism. Cosmological argument, the need to ground axioms in something not relative and the need for meaning. These are the kind inane mock carp the ignorant denizens of the hate group spit back. These answers really demonstrate the bankruptcy of atheism, out education system, and the barbarism tat is overtaking civilization.
Ben The Biased.
don't agree that it actually means anything to "ground moral axioms," or that the categories of "necessary" and "contingent" are meaningful in any way, or that "self actualization" is a meaningful or measurable quality, so I don't find any of your arguments or challenges meaningful or useful in any way.
This is just extremely stupid stuff. Grounding ethics axioms means nothing more or less than showing the reasons why the axioms chosen are valid. Axioms can be grounded in logic, or tradition, or science (empirical data) or almost anything. One could ground them in supersition. It's really just another way of say "show a reason." To say they don't need to be grounded is to say we don't reasons for doing things. Ethical axioms stem form values of cousre. Values are not easily pinned down. Yet most would agree that we chose our ethical values for more important reasons than mere taste or out of anger or for reason more valid than mere bigotry. So what he's actually saying is we don't need ethics. We don't' need to worry about being ethical. Either or that or he's saying valuing a choice based upon hatred, bigorty, superstion, stupidity, or indifference is just as good as having a valid reason.
Atheist usually ground their ethical axioms in one of three things (or all three):
(1) feelings
(2) genetics
(3) social constract
These are the three reasons usually given for an action to be ethical according to most atheists. Atheists tend to use teleological reasoning, so they think it's the out come that makes it ethical. Outcome, however, requires a value to choose the outcome that suits us. That is not an excuse to get away from grounding. These three aspects are problematic:
(1) feelings:
Not that they aren't valid but they don't furnish a grounding. They work better as indications of some deeper justification such as innate ideas, divine origin, or genetics some such idea. The reason is because feelings change, there are competing feelings, people who don't have the feelings, and if you are a materialist you can't really demonstrable why feelings matter. These guys are willing to throw away a thousand year long tradition in ethical theory and just we don't need reasons.
(2) genetics
Genes can't be moral. The moral dimension is decision making, it requires free will. So we can't have a situation where what one should do is based upon genetic structure, because that's not Dennison making. This is a violation of what is called "Hume's fork." Hume said you can't derive an out from an is. Just saying there's a genetic tendency doesn't tell us why it's moral. If we discord the moral category we are just throwing away a rational harmonious peaceful society and clearing the way for might makes right.
(3) social contract
That was great as a counter to divine right of kings. What do you when the society is racist? Or what do you are in Nazi German or some such place where the social contract requires doing thing that in other contexts are extremely unethical? What seems liberating in one context can be oppressive in another. That's the flaw of relativism.
More wisdom from Ben the idiot:
However, let's assume that you are entirely correct on all three of these points. The question then would be, what difference does it make? What is all of this supposed to convince me of? None of it works in any way as evidence that God exists.
Of cousre it does, he's just ignoring how it works. I did say at the outset, as I always do, that I'm not offer proof (in fact the original thread didn't ask for proof but for 'reasons to believe') I am presenting rational warrant for belief.
That people find God best "grounds" their moral axioms doesn't mean he exists.
It's a good reason to assume so. There's also more to it than that. There's a dilemma. We feel deeply about certain actions that they are right or wrong, laudable or outrages against humanity, but there's no way to ground the choice in the feeling. The feeling works better as an indication of a higher truth. That higher truth points to the divine.
That he is the only explanation their limited minds can imagine for the origin of the universe doesn't mean he exists. That belief in him makes them "self-actualized" doesn't mean he exists.
It's a good reason t think he does since it's the content of the experience and it's Demosthenes emphatically in the outcome. That he is the only expatiation is a fine reason to believe. What kind of statement is that? that shows me that he doesn't care what's true and what is not. He's not searching for reasons he's just stuck on refusing. He wants to ask "why do people believe"then when you tell him the can't stand the fact that we do have reasons. If the explanation, God being the only one that works, is not a good enough reason then why have scinece? That's the basis of scientific belief isn't it?
I challenged them in my post to provide an alternative and they didn't brother. They just assert that they have one, but what is it? Then he's asserting that I'm stupid because I don't automatically assume that there is alternative but showing me one is his job, because that was my challenge.
So...what exactly are these arguments accomplishing? Is it just to say that I'd have a more coherent belief system and better well-being if I believed in God?
They are answering the original thread.
Even if I agreed with that (which I don't), I can't just choose to believe in God. I don't find the evidence of God's existence remotely persuasive, so I can't choose to believe in him any more than I could choose to believe that I have a million dollars in my bank account. I must be persuaded to believe. I can't make it happen. No matter how much you say my life would be better if I believed there was a million dollars in my bank account, I just can't believe it. Same goes for God.
what has he actually said here? he's actuality agreed with an observation I made once about the demand of atheist to be conquered. They don't' rational thinking, they don't want to deliberate, they are lazy. they want to be forced. that's a pretty unfair burden. They don't up in any effort to disprove God all they do is make people feel insutled and ridiculed for believing. They never actually try. Well some do there are argumetns against God but they are usualy piss poor. I've seen one that's any good except as a reason move on form fundamentalism to liberal theology.
What he's really saying is "I refuse to reason." What I have said on this blog before about the only argument atheists have? when you boil it down all they really have is the refusal to believe. What he's saying is no matter how good a reason to believe he will not give it any credence until it produce absolute proof that he can't argue with. He said :" No matter how much you say my life would be better if I believed there was a million dollars in my bank account, I just can't believe it. Same goes for God. " Translation:
I refuse to believe so that proves it's not true.
That is what I have called their one and only argument. After all if there's no valid origin we have to one or we wouldn't be here, if God is the only one that's a fine reason to think there's a God. A fine reason is not good enough for him. That would be ok with me if he was willing to just let those who accept it be. He is not. He is one of the cruelest mocking ridicule artists on CARM> so he's really saying Unless you have absolute proof you are an idiot to believe something. Of course he has no absolute proof. He has nothing more than refusal.
Here's what more of them said.
Bust Na
I am interested in this one:





challenge: the atheist cant' produce a suitable origin theory that is not based upon arbitrary necessity.



What's wrong with just saying origin is based upon contingencies?

What he' saying here is so stupid it could be a feature attraction on a hypothetical tv show called "stupid atheist tricks." He is confussing the nature of the chian of cause and effect in the ICR (infinite causal regress) with the logic that is used to support it. Just the concept of the ICR is that of a linear prgression of cause and effect doesn' mean the logic used to put it over is linear. I contend it's put in place by circular reasoning becuase you just attempt to explain each couplet of c=>e with itself as the basis for the next one. With no beginning there's never a point where you have a cause for the causes. I also argue that this is arbitrary necessity it's just putting a string of contingencies in place of necessity for no other reason than to avoid a God argument. That's what really get's me about it. there is no good reason for assuming ICR other than that one doesn't want to believe in final cause, since final cause = God. It's like cheating. It's saying "I refuse to believe so that proves it's not true, and if it is true I will still pretend it's not." see my arguments
against ICR.

Super Genyus says:

Frankly, I'm sick of hearing about mystical experiences from you, so I didn't continue. I think we've exhausted that debate. I'm just going to say that they are completely compatible with a naturalistic framework. And, before you comment on that, look up the definition of compatible.
This guy is usually one of the brightest of the carm atheist. He's probably is just sick of me always talking about 200 studies and mystical experiencing. It's the answer it proves it. I really should start using Lofuts' approach and just say "read my book." I have to get the book out there first. This is as very alarming thing to see becasue one of the bright actually refusing to look at the evidence. That just reinforces the whole notion of dumder heads refusing to think, I wont look through the telescope becuase it's a trick and so on.
This next guy is not one of the bright ones:
Originally Posted by Magritte
Originally Posted by Magritte